Hey beauties! Happy Monday!
Today I decided to finally kick myself in the arse and join a blog hop. I don't have many followers so it would be a great way to gain followers and find other awesome bloggers as well right? Well, I hope so!
Kelly
&
Nykki
are two *falsetto dramatic voice* A-MAZ-ING!!! beauty bloggers who are pretty, kind, sweet, funny, & helpful [where was I going with this?] oh, yea, lol and they are the founders of the Monday Blog Hop. If you would like to join or at least get more details on it, click the button.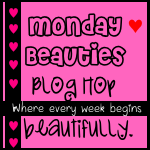 ....DO it! You know ya wannaaaaaa!!
BUT even if you don't, I highly recommend that you check out, both,
Kelly's
&
Nykki's
blogs and subscribe to them. Happy Monday again!! Stay tuned for more posts and randomosity!
Don't forget your Karma Kiss for the day!!
~MUAH~